Internet Detritus – Random Chaos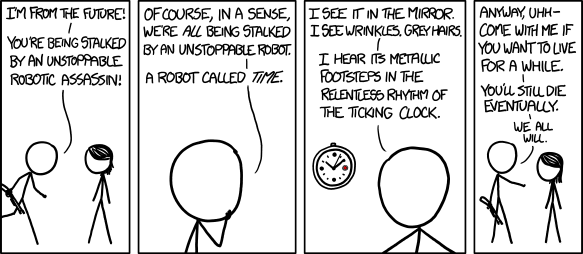 NO FATE BUT THE NARRATIVES WE IMPOSE ON LIFE'S RANDOM CHAOS TO DISTRACT OURSELVES FROM OUR EXISTENTIAL PLIGHT
. . . and you've now started your English/History/Philosophy class.
Just like the future of education
This contradiction is known as "sensory-specific satiety." In lay terms, it is the tendency for big, distinct flavors to overwhelm the brain, which responds by depressing your desire to have more. Sensory-specific satiety also became a guiding principle for the processed-food industry. The biggest hits — be they Coca-Cola or Doritos — owe their success to complex formulas that pique the taste buds enough to be alluring but don't have a distinct, overriding single flavor that tells the brain to stop eating.
The Science of Junk Food – aiming for just enough flavor to keep you eating until you die.
The evils of railroads
Give me the old, solemn, straightforward, regular Dutch canal — three miles an hour for expresses, and two for jog-and-trot journeys — with a yoke of oxen for a heavy load! I go for beasts of burthen: it is more primitive and scriptural, and suits a moral and religious people better. None of your hop-skip-and-jump whimsies for me.
Economics?
Anarchist Josiah Warren believed that the only just measure of a product's value was the amount of labor that went into producing it. Charging more than this was "cannibalism" — interest, rent, and profit were state-sanctioned usury. Accordingly, he proposed a system where goods would be traded explicitly on this basis — "he who employs five or ten hours of his time, in the service of another, receives five or ten hours labour of the other in return."
There was an English teacher doing something with different cultures interacting that could use something like this. Might also be handy for some discussions on economics.